© Kiff One Name Study 1998-2000 all rights reserved
KIFF One Name Study
Secretary: Lori-Ann Foley
St Helier, Jersey
Channel Islands, UK
Issue 22
Winter 2000
Kiff One Name Study Newsletter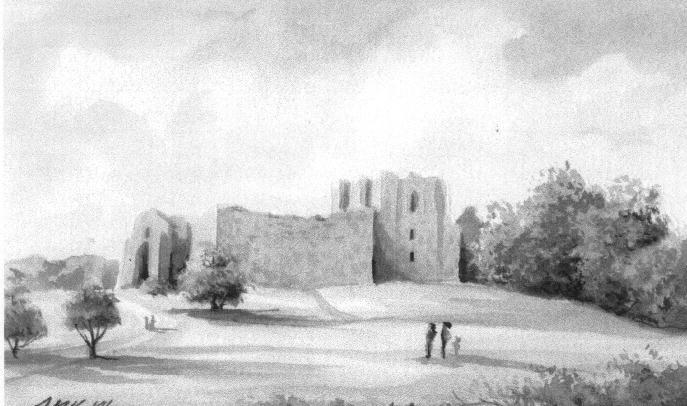 Editorial
The picture on the cover of this issue is the lovely Oystermouth Castle, Gower, Wales, a sight that would have been well known to the many Kifts and Kiffs of the area.
We have had a breakthrough on the Hertfordshire Kiff tree, details of which can be found on page 9.
It seems I am going to be moving house in the near future (10th March, lawyers and God permitting) and will be 'camping out' in the new house while we decorate it, install a fully functional bathroom and kitchen, etc. Although I, of course, would give first priority to my office and library, not everyone else chez nous agrees. Strangely they want a working kitchen and bathroom first. So although my computer will be functioning and my paperwork will be about, somewhere in a box, services may be slightly disrupted over the next few months. Until I am sure I have moved, and we have decided on a new name for the house, those with e-mail can contact me on Lori-Ann@kiff.net This is the e-mail at my work, so if anything sent could be marked 'Attn Lori-Ann' I would be grateful. I will send out change of address cards as soon I know for sure what's happening and anything sent to the old address once I've moved should be redirected all right (I have complete faith in Jersey's post office).
This year's Kiff Reunion will be a static one again, back at Diana Rustam's house. Once again it will be on the second Saturday in June, the 10th. Would anyone who intends to go, whether they know now or nearer the time, please ring Diana on (number withheld), so she has some ideas of numbers. Once again the day will start at 10 am-ish and I hope to see you all there.
We have had a very full Oakley family tree from John Oakley of Co. Durham, who is descended from a brother of Hannah Oakley, who married William Kiff. If anyone descended from William and Hannah would like copies of the trees or to correspond with John let me know and I will pass on whatever information you need.
New Members
D J Kiff, Halstead, Essex,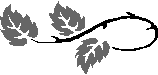 Transported Beyond the Seas
Lori-Ann Foley
7th April, 1842
Today two brothers today appeared before the Liberty of St Albans Easter Session and both were sentenced to be transported to Australia for 10 years.
Thomas Kiff (33), of St Albans, pleaded not guilty to the charge of stealing three halfcrowns, a shilling and a sixpence from David Smith on 2 April at the Vine Public House in St Albans.
Mr Smith told police that he had been at the Vine Public House in Spicer Street, in the Abbey Parish, on Saturday, arriving at about seven o'clock and remaining there all evening. He had a half sovereign in gold and two sixpence's in silver when he went into the house.
Mr Smith gave the half sovereign to pay over for some beer and tobacco. He threw the half sovereign on the table to Mrs Elizabeth Oakley, the landlady, and it rolled off on the floor. Mrs Oakley gave him change. He put the silver in his left hand waistcoat pocket and the copper in his right hand pocket.
Mr Smith then had two more pints of beer and a screw of tobacco.
Kiff, who had been in the Tap Room all the evening, then went over to Smith and offered to stand him a pint of beer if he could sit down by the side of him. Mr Smith said Kiff then stood on his left hand side for sometime.
A young man who Mr Smith knew came into the pub between 10 and 11 pm and as Smith got up to speak to him, Kiff took hold of Smith round the waist and handled him about the waistcoat. The men then sat down again and shortly afterwards Mr Smith put his hand in his pocket to pay for the beer and discovered that the nine shillings in silver were gone.
Mr Smith went to Mrs Oakley at the bar and told her he had been robbed. Mrs Oakley confirmed that Mr Smith had wished her to feel in his waistcoat pocket for the silver. She did so and found there wasn' t any silver in it. Both Mrs Oakley and Mr Smith agree that he was 'fresh' but that he knew what he was about. Mrs Oakley then told her husband, James Oakley, and he went into the Tap Room, while Mr Smith remained in the bar with Mrs Oakley. Mr Oakley told police that he went into the Tap Room and shut the door, saying to the people in the Tap Room: 'Smith has lost his money. Don't anyone stir out of the tap room. The police are gone for.' The only person who moved was Kiff, who went to the back door. Mr Oakley said to Kiff: 'Why don't you stop, Kiff, the same as the rest?' Kiff replied: 'Damn me. You'll let me go and do my job.'
Mr Oakley called for a light so he could follow Kiff but the wind was so strong the light blew out. Kiff went to the privy and when he got outside the door Mr Oakley reported that he saw Kiff's hand in his pocket and heard the jingling of silver. Mr Oakley said to him: 'Kiff, I think you have got the money. I heard it jingle in your pocket.', to which Kiff replied: 'I have not got any.' Kiff then went towards the dust hole and then to the privy. Mr Oakley reported that Kiff was there about a minute or so and then went back into the tap room and pulled out of his pocket all his things. There was no money except a halfpenny and a farthin.
Afterwards Mr Smith charged Kiff with robbing him and told Kiff if he would give him his money he could treat him with a gallon of beer out of it. Kiff said he had not got it and he did not know anything about it.
Mr Smith also claimed that when Mrs Oakley had told him that someone had gone out the back door, he had gone out and seen Kiff in the privy sitting on the seat. He said he heard Oakley speaking to Kiff about the money and that he had heard Kiff say 'now find it'. Mr Smith believed that Kiff had thrown the money in the privy.
Kiff was taken to the station house at about eleven o'clock by Pc Jaques Smith. Mr Smith was with him. Pc Smith told Kiff what he was charged with and then he was searched. No money was found on him.
Pc Smith reported that Kiff was fresh but not drunk. Kiff offered to go to his master, Mr W Smith, to see if he could borrow the money, to give to Mr Smith. But this was refused, as was bail.
The next morning William Griffen, who is Mrs Oakley's brother and had been in the Vine the night before, went to the privy to see if he could find the silver. On the ledge over the door, nearly covered with dust and cobwebs, Mr Griffen found three half crowns and one shilling in silver.
He did not remove the money, but reported the find to Pc John Lacy, who took possession of it. Kiff was found guilty of the crime.
Thomas Kiff's brother Robert Kiff (27), of St Peter, pleaded not guilty to breaking and entering a dwelling house and taking a hen fowl worth 1/0d from William Wright on 22 January. John Males, a farm servant of Mr Wright's, told police that he works and sleeps at the Beech Farm, Saint Peter. John Webb, another servant, also sleeps there.
About two o'clock on the Sunday morning, Mr Males had heard a dog bark. Its kennel is close to the house and also to the hen house. The hen house is in a little yard which adjoins and opens into the farmyard. The hole where the hens go in and out is in a little yard close to the farm house door. As soon as Mr Males heard the dog bark he got up and looked out of his bedroom window, which does not look towards the hen house. He did not see anybody. Mr Webb was also awake.
Mr Males then got into bed again, but then heard some boards creaking and the hens cackling. He said to Webb that they should get up as somebody was getting into the hen house. The two men went downstairs and into the back kitchen. The hen house also opens into the back kitchen. They called to Mr Wright from the bottom of the stairs, as they sleep up different stairs from him.
Mr Wright came down with a candle. They waited there a minute and heard a noise in the hen house. One of the hens was crying out. Mr Males then opened the hen house door and Mr Webb opened the house door at the same time. Mr Webb saw a man coming head first out of a hole which had been made in the hen house. He had a stick in his hand and beat the man over the head. The man then drew back into the hole.
Mr Webb saw another man directly come round the corner of a shed close to the hen house. As soon as he saw Mr Webb, he turned back and went away. Mr Webb did not pursue him because he was watching at the hole in the hen house. The pair saw Kiff still squatting in one corner of the hen house and told him to come out. When he came out into the back kitchen, Mr Wright and Mr Webb took hold of him. Mr Males then went into the hen house and saw that there was a hole broken through the boarded side of the hen house and at the place where the hens go in and out. The hole was big enough for a man to pass through. Mr Males then went out into the little yard and saw a hen, which appeared to have been just killed, lying on the ground about three yards from the hole. Kiff was found guilty of the charge of theft.
Thomas Kiff was christened on 31st January 1808, Robert on 11th December 1814, both in St Michael's, St Albans. They were the fifth and sixth sons of James Kiff and Catherine Russell. Thomas married Susannah Cockle in September 1830 in St Michael's and they had four children before his arrest and conviction.
The brothers were transported to Australia on the Earl Grey. The ship departed on 5th October 1842 and arrived in Van Diemen's Land, Tasmania, on 14th January 1843. The captain was Alexander S Mollison and the ship's surgeon was Colin A Browning. Neither Robert nor Thomas appear in the surgeon's sick book or the main journal, which summarises the daily actions and medicines applied by the surgeon to the ill on board ship.
The convict records (Con 33/35) for the brothers give very full descriptions of them.
Thomas was 5 ft, 5¾ in and of dark complexion. He had a small head, with dark brown hair and whiskers, hazel eyes, black eyebrows and an oval face with small to medium features. He had marks on the inside of his left arm and the back of his left hand and wore a ring on his third finger.
His trade was that of ploughman and he was a Protestant who could read.
There is also a mention of a chronic swelling in his chest and the Serjeant reports on Thomas' file that he was 'sick'. And it was only a short time after his arrival, on 6th March 1843, that Thomas died in H M Col Hospital, Hobart.
Whether Thomas' wife Susannah was informed of his death is not certain, but she went on to have two more children - Eliza Jane in 1847 and Ann in 1854, the fathers of whom are not yet known. And on 22nd September, 1861 Susan Kiff, widow, daughter of Joseph Cockle, married William Chalkley in the District Church of St Albans by banns. Both were residing in Fishpool Street.
The description of Robert in his convict records makes it clear that the two brothers were very similar to each other physically. He was 5 ft, 5 in tall, with a dark complexion. He had a medium head, with dark brown hair and whiskers, hazel eyes, black eyebrows and an oval face with small to medium features. He had a scar on the inside of his left arm, a mole on the back of his right hand and a scar below his lip.
His trade was that of ploughman and he was a Protestant who could read.
Robert's records show he committed a number of offences while serving his sentence, from going absent without leave, to 'taking away tools and other articles from the station and refusing to give any account of them when apprehended' to being strongly suspected of having committed a robbery while AWOL to being out after hours and under the influence of liquor in a disorderly house. He was also caught on one occasion when he had been offering a quantity of wallaby skins for sale.
His misconduct meant his sentence was extended, he did hard labour in chains and spent time in solitary.
But he also received a number of tickets of leave and was finally given his freedom on 29th May 1862.
Robert seems to have remained in Australia where he had made a life for himself.
Records show a Robert Kaif, aged 37, marrying Bridget Grady, aged 25, in Fingal, Tasmania, on 18 Oct 1852. They had a number of children while they lived in Fingal: Robert, born 17 May 1854; George, born 13 May 1856; Margaret, born 14 Jul 1858; James, born 5 Jan 1861; William, born 1 Sep 1863; Catherine, born 9 Jul 1865; James, born 21 Dec 1868, died 19 Feb 1869.
The whole family then disappear from Tasmanian records after young James' death.
Robert and Thomas were both brothers of my 3 x great grandfather, George Kiff. The information about their crimes and transportation to Tasmania was found in the book Transported Beyond the Seas published in 1997. Ken Griffin, of the Hertfordshire Family and Population History Society, compiled an alphabetical list of criminals prosecuted in Hertfordshire who had received transportation sentences to Australia between 1784 and 1866. He also supplied me with copies of information from newspaper reports, which gave details of the trial, and advised me on how to order copies of the men's convict records from Tasmania. The Tasmanian authorities were incredibly helpful and professional and provide an excellent, inexpensive service for anyone else trying to trace their convict ancestors.
Other references to Kiffs were found in the records during research for information about Robert and Thomas Kiff.
Robert Kift, son of Thomas, died in Ballarat, aged 56, in 1888 and was buried at Ballarat Old Cemetery on 14 Feb 1888.
Robert Keef, who was born in Tasmania, married Elizabeth Roberts in Victoria in 1877, and they had six children between 1877 and 1891 at Nagambie, Victoria: Ada Keef, born 1877; George Keef, born 1879; Charles Keeffe, born 1882; William Keefe, born 1885; Eliza Keefe, born 1887 and Thomas James Keef, born 1891.
Robert Kift, born in Swansea, South Wales, a bachelor and carpenter aged 27, was the son of Robert Kift and Margaret Johns. He married Margaret Ann Matthews, a 23 year old from Geelong, Victoria, the daughter of William Matthews and Caroline Reynolds on 21 December, 1881 in Ballarat, Victoria. The witnesses were Thomas Kift and Alice Hart. Robert and Margaret Ann had at least six children born between 1883 and 1895 in Victoria.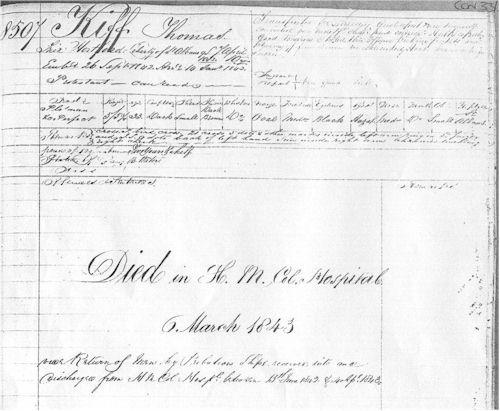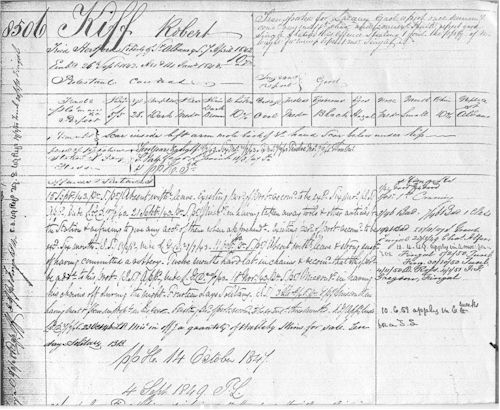 Fleet Marriages
by Lori-Ann Foley
The marriages of the top three couples on the Hertfordshire Kiff tree have been something of an enigma. Did William and Elizabeth, William and Diana or Andrew and Elizabeth marry? If so, where?
The answer to one of these mysteries has finally been answered, in of all places the marriage records of the Fleet Prison and the area around it.
Jack Parker has published Fleet Marriages of Hertfordshire People to 1754 through the Hertfordshire Family and Population History Society.
And among the index of brides and grooms is the following entry:
Kiff, Wm, of St Stevens, St Albans, bachelor, on 10 October 1740 to Diana Harding, of St Stevens, St Albans, spinster.
Mr Parker writes that 'the Fleet prison stood in Farringdon Street and the area around it, known as the "Rules of the Fleet", was bounded by Farringdon Street, Ludgate Hill, the Old Bailey and Fleet Lane. It was a somewhat unsalubrious and notorious area of narrow alleys, courts and passages where debt prisoners giving suitable security were able to live and if possible work.
'Until prevented by an Act of 1710, marriages had taken place in the prison chapel or in chambers within the prison. After, the entire business moved into the "Rules", with chapels set up associated with marriage houses which aimed to supply food and drink. Marriages were not confined to these places and took place in taverns, coffee houses, private dwellings and chambers, and shops.
'While some of the Fleet marriages were for criminal or fraudulent purposes, the great majority of the estimated nearly a quarter of a million or so couples marrying there did so with the aim of making a normal lasting union.'
Mr Parker also gives references to where any further information may be found and for William and Diana's marriage the reference is PRO Class RG7 '165p97' and '151p51'. For anyone going to the PRO, it may be interesting to look these up and see if any light is thrown on why William and Diana were in the Rules of the Fleet.
Another Kiff also features in the index, as a spouse with no place of origin cross referenced to a spouse with one.
Williams, Jno, of Watford, husbandman, bachelor, on 12 April 1751 to Eliz. Kiff, spinster
The PRO reference for this marriage is '224p54'.
And as more records become available in the future, perhaps there is hope for our other two Kiff couples.
page 10
Descendants of Albert John Kiff and Lily Newman
For nearly ten years Peter Kiff, of Wallingford, has been trying to get all the family together and in August 1999 he finally managed it, with the photographic results below.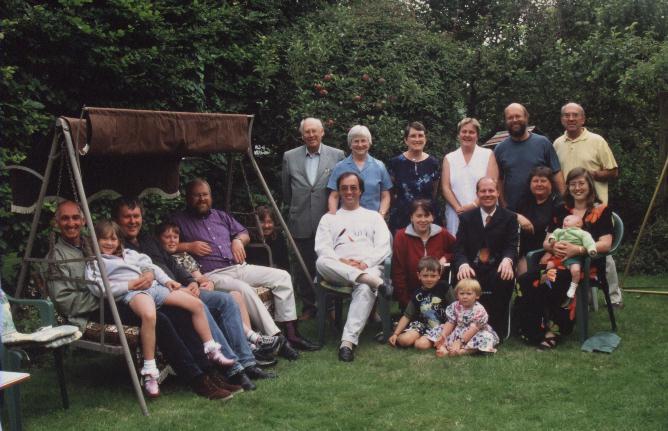 details to follow

© Kiff One Name Study 1998-2000 all rights reserved