© Kiff One Name Study 1996-1999 all rights reserved
KIFF One Name Study
Secretary: Lori-Ann Foley
St Helier, Jersey
Channel Islands, UK
Issue 12
August 1996
Kiff One Name Study Newsletter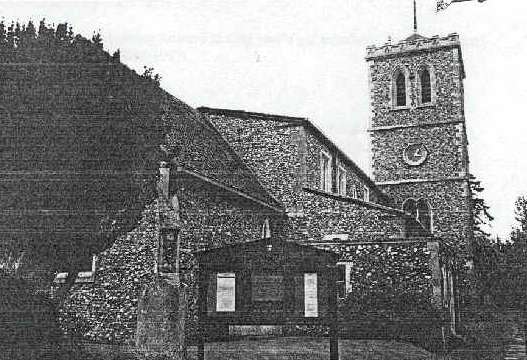 St Michaels Parish Church, St Albans, Hertfordshire

Issue 12, August 1996

Editorial
Welcome to the latest issue of the newsletter, where we have some information on the Kiff/ts in North America, as well as the 1881 census extracts for Kiffs in Middlesex, the latest research and another Kiff/t being reported in the newspaper.
The big event since the last issue of the newsletter was the Kiff get-together held at Diana Rustam's on Saturday, 9th June. The weather held out, for once, and we took over both Diana's beautiful conservatory and her lovely garden. A lot of interesting information was exchanged, theories were discussed and plans of research laid out. The only time the talking stopped was when our mouths were occupied with the delicious food of the buffet lunch, followed by an absolutely wicked chocolate cake for pudding.
Everyone had a wonderful time and is looking forward to next year's get together. So make a note in your diary for the second Saturday in June 1997!
And now my annual begging for articles, research and any old information for the upcoming issues of the newsletter. While the file isn't empty yet, things are looking a bit sparse, so please cough up! Thank you.
It was with regret that we learned that Irene Bryant, one of our active Kiff researchers, passed away suddenly at the end of May. She will be sadly missed by all who knew her and we send our condolences to her husband, John, and her family.

1881 Census Extracts - Middlesex - KIFFS
The information from the extracts is given in the following order:
Name
Age
Sex
Status
Head,etc
Mar,etc
Census Place
Occupation
Name of Head
Where Born
(Listing not yet available on webpage)

Born Under a Blanket
Sandra Thomas has sent in a newspaper article she found dating from 1875, relating to her great-grandfather's sister, Elizabeth Kift. Under the headline The Alleged Concealment of Birth at Oystermouth, the story is as follows.
Elizabeth Kift was a domestic servant at Mr Langdon's Caswell Hotel in Oystermouth, where Elizabeth's sister Sarah Kift and her future sister-in-law Sarah Senkins, also both worked. Elizabeth had been in service for about thirteen months when Mrs Langdon noticed that Elizabeth had been looking ill and was suspicious that she might be pregnant. After making some enquiries, Mrs Langdon's fears were put to rest and Elizabeth kept up her hard work with no complaint.
But a short time after, on a Friday night, Mrs Langdon returned home from Swansea and was informed that Elizabeth was ill. About ten o'clock that night Mrs Langdon went up to check on Elizabeth, who complained of a pain in her chest. Two girls, the two Sarahs, shared a bed with Elizabeth, so Mrs Langdon left them, knowing Elizabeth would have help if she needed it during the night.
Mrs Langdon then went to her own bed in the room next door. During the night she heard moans coming from the girls' room, as well as the sound of a lot of bustling about. When she got up to find out what was happening, Mrs Langdon found the door to the girls' room fastened. Mrs Langdon called to the girls, who finally came and opened the door.
Mrs Langdon noticed something was wrong and called for her friend, Mrs Elford, who was staying the night. The two ladies looked around the room to see what might be amiss, while Elizabeth sat on the side of the bed, wrapped in a blanket, obviously in pain and complaining she felt cold. The ladies helped Elizabeth into bed and to their horror spotted the body of a child underneath it. The child was fully developed but no cry had been heard from it. Mrs Elford satisfied herself that the child was dead.
The authorities were called in and Elizabeth found herself being charged by Inspector Howlett with concealing the birth of a child and appeared in Court in September 1875. She was defended by Mr W.R. Smith. "s Langdon and Mrs Elford gave their stories and then the Court heard from Dr Hurley, M.R. C. S., of the Mumbles. He stated that the child had suffocated, this possibly being brought about if it had been born under the blankets and not removed in time. The Doctor believed that if the child had been maliciously suffocated, by someone stopping up the nose and mouth, there would have been indications of violence.
The Bench decided that there was not sufficient evidence to sustain the charge and Elizabeth was discharged. No mention seems to have been made about the father of the child.
What happened to Elizabeth after that is unknown. Sandra notes that this event probably caused quite a scandal in the village. Elizabeth's brother, John Kift, married Sarah Jenkins a few years later and they had a number of children and grandchildren. Elizabeth's sister, Sarah, also married.

Desperately Seeking Ken Kiff
by Lori-Ann Foley
It has long been wondered where Ken Kiff, the artist, now Associate Artist at the National Gallery, fits on the Kiff family tree and efforts are being made to pin him down. The results of the latest search have given us the following information.
Kenneth G. Kiff was born in 1935 in Dagenham. He was the younger brother of Frederick Kiff born 1925. Their parents were Frederick W. Kiff and Miss Fawcett, who married in London Colney in 1925. Frederick W was a woodworker and later joined the Air Raid Patrol. Frederick W died in 1939, when Ken was four years old.
Ken's mother, Miss Faweett, remarried in 1941 to her brother-in-law, and Ken's uncle, Albert Kiff. Albert had previously been married to a Miss Prelow but was now a widower with a son, Albert John Kiff, born 1923 in Islington. The three boys were all brought up together on Albert's dairy farm in Holloway.
Ken's father Frederick W was born in 1901 in Islington. Albert was probably his older brother, born ca 1900 in Islington. Their parents were Arthur William Kiff and Jane Ellen Adams, who married on 28th June 1886 in Islington. Arthur William, aged 23, was the son of William Kiff a horse dealer. Jane Adams, aged 22, was the daughter of Joseph Adams, a painter. They both gave their address as 2 Tafnell Park Mews. Arthur William was working as a milk carrier.
The information gathered from the marriage certificate shows that Arthur William was born ca 1863 and was the son of William Kiff, a horse dealer. That is as far as details have been confirmed. It's all theories after that.
The 1881 census index for Middlesex may have some information, though. It shows Amelia Kiff, born 3rd 1855 in Islington, married to Edward Messer. Living with the couple are the following: Mary Barbara Kiff, born lst 1860; Arthur Kiff, born 1864 (no apparent GRO reference); Alfred Kiff, born 4th 1866; Annie Kiff, born 1872/3 (no apparent GRO reference) - all in Islington. Could the Arthur Kiff, born ca 1864, be our Arthur William, born ca 1863?
Because Amelia has all her young siblings living with her, one wonders if perhaps their parents are dead. Looking at the GRO references, there are two deaths in Islington between 1871 and 1881. William Kiff, aged 39, died in 1872 and Amelia Kiff, aged 37, died in 1874. It seems possible that these are the parents, especially with the two uses of the name Amelia, and if the father is indeed William, that may be another pointer to this Arthur being our Arthur. And to stretch the point just a little bit further, there is a William Kiff marrying in Kensington in 3rd 1855 (see Amelia's birth date in the paragraph above).
Also, could Arthur William's father's trade as a horse dealer be a clue itself Barnard Kiff and his son Richard were both horse dealers. Could William be Barnard's son William born 1830 in St Albans, who moved to London? The age of the William who died in 1872 leads to an approximate date of birth of 1833, close but not exactly that of Barnard's son.
It seems the next step will be to look at the 1871 census for Islington, hoping to find the family all together and the place of William's birth. If anyone is willing to have a go at the census, please let me know, so I can tell others and your work isn't duplicated. In the meantime, any ideas or theories on the above will be gratefully received.

Research Undertaken
Peter Kiff has sent in another possible origin of the surname "Kiff". As mentioned in last autumn's newsletter (No.8), the assistant curator of the Newbury Borough Council suggested that the origin of the name KIFF could have come from a variation of KITH as in "kith and kin". The O.E.D. definition of the word KITH is that of a native land, familiar place or home so "kith and kin" meant your home and your relations. KITH was spelt as KIFFE in 1573, 1584 and 1620 with the spelling KIFF in 1719, which is around the date of our William.
It seems possible that William could have been known as William of this place to distinguish him from a William from somewhere else. Why he was not called William LANGLEY of Kings Langley we shall never know!
Nevertheless, this is only a suggestion. Diana Rustam's work with other on the KIFFORDS of Hatfield, the KIFTs and KIFFETTs are also possible but many hours have been spent on the research by numbers of people and without a breakthrough somewhere soon, we shall probably get no further. After all, there must be an end (or a beginning) to the story somewhere.
Celia Jepps has sent in the following information.
Certificate of death in the registration district of Hertford.
24th July 1862, Hertford Heath, Little Amwell
George Kiff, male, 30 years, general labourer, died of diabetes (certified)
Informant: Margaret Norfolk, present at the death, Hertford Heath, Little Amwell
Entry of death in the registration district of St Albans.
5th December 1848, Chissit Green, St Stephens
Elizabeth Kiff, 86 years, widow of John Kiff, labourer, died of old age (not certified)
Informant: X the mark of Elizabeth Pangboume, in attendance, Brickfield, St Stephens
Entry of death in the registration district of Edmonton.
2nd July 1888, William Kiff, 84 years, farm bailiff, died of gastro intestinal catarrh 7 days melaena (certified by T Thyne, MD)
Informant: B Carter, daughter, present at the death, Shenley, Herts
Celia also received two burial notes from Leslie Tabi.
Annie Kiff, died August 1951 at St Andrews Hospital
Buried Sth August 1951, Grave R5689, Sq 38, Bromley by Bow Cemetery
William Kiff, died at Limekiln Hill, Limehouse, aged 32
Buried 20th July 1866, Bow Cemetery

Thomas Kiff Update
Further to the Thomas Kiff who married Annie Monk and left a large number of descendants "Down Under". The 1881 census extract shows Thomas' parents John Kiff and Lydia Bau. John was born ca 1821 in Northolt and Thomas' siblings include Mary, born 1852; Charles, born 1854; Sarah, born 1863. So we now have an approximate date and a place for John's birth and are ready to take the next step back in trying to find out where these Kiffs fit on the tree.
Kiff Theories
by Lori-Ann Foley
While studying the London KiEtree below, the use of the name Benjamin made me wonder if perhaps they were related to the Hertfordshire Kiffs. My theory concerns Benjamin Kiff, the son of John Kiff who married Mary Bunker. John and Mary had three children who married in Chesham: Benjamin, born ca 1756, married Ann Sill in 1779; Elizabeth, born ca 1759, married John Dennett in 1779; Ann, born ca 1765, married Joseph Lovegrove in 1788. I think it is possible Benjamin and Ann Kiff had a son John (named after Benjamin's father), born ca 1785, who married an Elizabeth and at some time ended up in London and went on to produce the tree below. I have been told that research has been done on the Chesham Kiffs and there appear to be no Kiff descendants in that area. Could Benjamin or the theoretical son John have moved to London to found this tree? Any comments, proofs or disproof's of this theory will be gratefully received.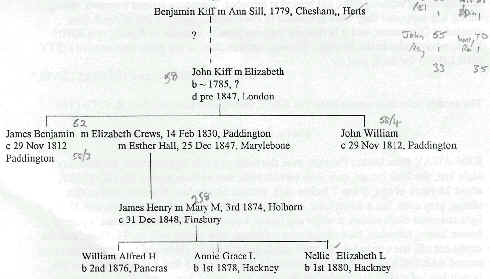 The Kiffs in North America
The set of books known as the New Jersey Archives, First Series, contain valuable extracts from newspapers and such, indexed according to surname. Two references to Kiff variants can be found in these Archives.
The first comes from Vol XXVM, Newspaper Extracts, Vol 1Y2,, 1772-1773
"Springfield Chester County, May 15, 1773
Five Pounds Reward
RUN AWAY on the 27th of March last, from the subscribers, two native Irish servant men, one named JOHN RYAN, or M'AHEE, 20 years of age, 5 feet 8 or 9 inches high a well set fellow, grey eyes, light complexion, sandy brown hair, impudent look, had on a blue sailor's jacket, blue worsted plush breeches, blue ribbed yarn stockings, strong shoes, half soared, two under jackets, one bearskin, the other striped cotton, one fine shirt, has been ten months in the country, talks with the brogue; the other, named BARTHOLONEW MURPHY, 20 years of age, has been 5 years in the country, speaks good English, can read and write, 5 feet 6 inches high, dark hair, grey eyes, bow legged, long feet, a silly looking fellow; had on a country cloth jacket, light coloured, lined with black and white striped flannel, one under ditto, of fustian, lined with blue camblet, had no hind skirts, one:fine shirt, one homespun ditto, half worn, one pair of brown and white ribbed yam stockings, one pair mixed worsted ditto, old buckskin breeches, homespun striped trowsers, strong shoes; it is supposed they were concealed in Philadelphia, until the 3rd of April; they crossed at Gloucester, and it is thought they are gone to a cousin of Ryan's, one JOHN KIEF, who resides in the Jerseys. Whoever secures them in any goal, shall receive FIFTY SHILLINGS for each, paid by SETH PANCOAST, and THOMAS LEVIS."
The second reference comes from Vol XXIX, Newspaper Extracts, Vol X 1773-1774
"Twelve Dollars Reward
RAN-AWAY from Batsto Furnace, near the forks of Little Egg-Harbour, on Saturday night last, the 20th instant, two Irish servant men, one of them named DAVID KIEFF, about 28 years of age, 5 feet 7 inches high, straight brown hair, fair complexion, thin visage, grey eyes, has a down look, and stoops in his walk: Had on and took with him, a light coloured cloth coatee, a white nap jacket, both with white metal buttons, a pair of brown kersey breeches, blue ribbed yarn stockings, new shoes, with nails in them, and the straps cut off, has a new felt hat, with check and Oznaburg shirts and trowsers. The other named BARTHOLOMEW LIONS, about 21 years of age, 5 feet 4 inches high, straight brown hair, of a tawney complexion, has grey eyes, and a down look: Had on and took with him, a light coloured coatee, a white nap under jacket, both with white metal buttons, a pair of brown kersey breeches, a pair of blue ribbed yarn stockings, a pair of new shoes, drove full of nails, with white metal buckles in them, a new felt hat, with check Oznaburg, and flannel check shirt and trowsers. Whoever takes up and secures the above mentioned servants in any of his Majesty's goals, so that their master may have them again, shall receive the above reward, or SIX DOLLARS for either of them, and all reasonable charges, if brought home to said furnace, paid by Mr JOHN COX junr, in Philadelphia, or WILLIAM RICHARDS, at said furnace.
N.B. They both chew tobacco very much, and are suspected to have gone off in company with one Thomas Murray. November 24
The Penslvania Journal, and The Weekly Advertiser, No 1616, November 24, 1773. "
Peter Kiff has corresponded with Benjamin Francis Kiff of Florida for some 40 years and Benjamin sends this information on the Kiffs in America.
"It appears that at least some Kiffs were loyalists during the Revolutionary War and left the Colonies and went to Nova Scotia. Later on, when the British moved the French-speaking people to Louisiana, some of the Kiffs were caught in that net and that accounts for the name among the Cajuns. There are a number of Kiffs in the New Orleans phone directory.
I believe I told you that in the 1900 census there were Kiffs in 10 states. All of this comes as a surprise to us. We always proceeded on the premise that there were few, if any other, people of our name in the U. S."
The comments Benjamin makes about the movement of the Kiffs in North America can be seen in the IGI extracts, which follow.

IGI Extracts for North America
(Details withheld for time being)

© Kiff One Name Study 1996-1999 all rights reserved