© Kiff One Name Study 1998-1999 all rights reserved
KIFF One Name Study
Secretary: Lori-Ann Foley
St Helier, Jersey
Channel Islands, UK
Issue 19
Spring 1999
Kiff One Name Study Newsletter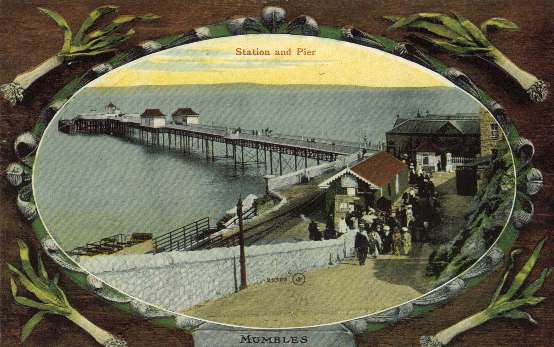 Editorial
It's time to start planning for the 1999 Kiff Reunion, which is taking place on a Saturday, in June. And this year we're on the move! The Kiff Reunion will be touring the Hertfordshire countryside, so as well as getting to visit with all our Kiff cousins, we'll also have a chance to visit the places some of our Kiff ancestors would have known.
Everyone is asked to please let Diana Rustam know in good time, so that arrangements can be made for lunch.
Full details of the day, which promises to be great fun, and very interesting, follow. I hope to see you all there.
The picture above is of Mumbles Pier and station, circa 1913. It has a special interest to Sandra Thomas, as it's where her grandparents met. Emma Frances Williams was a waitress in the tea-room at the start of the pier, while Albert Kift played the accordion in the band that used the little bandstand at the end of the pier. The pier is going to be refurbished shortly but is still very popular with visitors.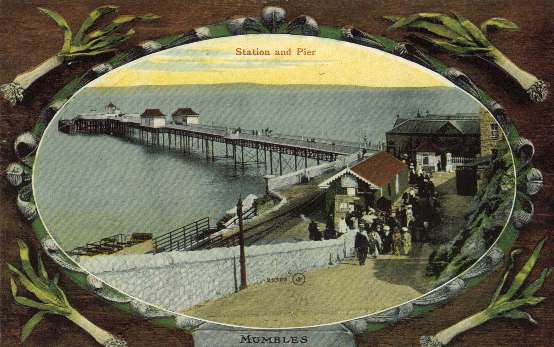 Picture probably copyright acknowledgement will be given when found.
June, 1999 - The Kiff Reunion Hits the Road
This year it has been agreed that the annual Kiff Reunion will be a touring version, visiting some of the main places of interest to descendants of the Hertfordshire Kiffs. The proposed schedule is as follows:-
| | |
| --- | --- |
| 10 am | Meet at Diana Rustam's house, Northwood, for coffee and to sort out car assignments |
| 11 am | Leave for Kings Langley |
| 11:20 am | Visit Kings Langley Parish Church, where the earliest records referring to Kiffs on the Hertfordshire tree can be found |
| 11:35 am | Depart towards St Albans on the original lane route, detouring northwards to visit Westwick Row and Andrew's cottage |
| 12 noon | Continue on to St Albans |
| 12:10 pm | If time permits, park for a visit to St Michael's Parish Church and Gorhambury Estate entrance opposite |
| 12:40 pm | Lunch at the Pre Hotel |
| 2 pm | If fine, go back to Verulameum car park and walk to the Abbey, now a cathedral, where William and Hannah, and Bernard and Barbara were married |
| 3 pm | Back to cars and to St Stephen's |
| 3:20/30 pm | Groups split up to visit separate interest areas, eg Tyttenhanger Green, London Colney, Aldenham Church |
It be very helpful if everyone could let Diana know if they can come, so that bookings can be made at The Pre, a house with a fascinating history, for lunch.
The Pre
by John G.E. Cox, Sept 93 for Whitbread PLC
In 1838, an elderly lady of 81 years was responsible for building the Pre at a cost of about Four Thousand, one hundred and thirty nine pounds. She was Lady Frances Cooke Grimston, who was the seventh of eight children, born to James, 2nd Viscount Grimston and his wife Mary Bucknall. For many years she had lived in Mayfair, part of London' s West End, but having outlived her contemporaries, and to avoid further unhappiness and loneliness, she decided 'to throw away a few hundreds' in the building of a 'cottage' on the estate where she had been brought up. Lady Frances died on 3rd January 1848 at the age of 91 years and is buried at St. Michael' s Church nearby.
The site chosen lay alongside the newly constructed road from the centre of St. Albans towards Redbourn, and on the southern boundary of the land flowed the River Ver, whilst to the east could be seen the fast decaying Norman abbey of St. Alban, and to the west Pre Mill, one of the many water mills on this stretch of the river. Beyond the River Ver was a great stretch of pasture, where in medieval times stood the small Abbey of St Mary de Pre, a nunnery founded by Warin, Abbot of St. Albans about 1190 as a hospital for leprous women. It survived until 1528, when Cardinal Thomas Wolsey, King Henry VIII's Chancellor closed the Hospital and used the sale proceeds towards the building of Christ Church College, Oxford.
Twelve years later, following the dissolution of the monasteries (1536-1540), the entire Gorhambury estate, comprising the Manors of Gorhambury, Westwick and Pre were acquired by Ralph Rowlatt, a local businessman, and later was by Sir Nicholas Bacon, Lord Keeper to Queen Elizabeth 1 his second son - Francis Bacon, the philosopher and author was Lord Chancellor to King James 1, but was disgraced for taking bribes and retired to his country seat at Gorhambury. In 1652 the Estate was acquired by Sir Harbottle Grimston from Trustees of the Bacon family. He married Anne Bacon, great grand-daughter of Sir Nicholas. The Grimston family have owned Gorhambury ever since. In 1881, Mr & Mrs Henry Toulmin moved into The Pre ( Henry Toulmin Barrister at Law was Mayor of St. Albans four times). The Toulmins enlarged the house to provide 4 more bedrooms and lavished much attention on the gardens. The nearest neighbours to them were the Grimston family at Gorhambury, Lord & Lady Grimthorpe at Batchwood Hall (Grimthorpe was responsible for the restoration of the Abbey) and Childwickbury, formerly the Toulmins' family home, but then occupied by Sir J. Blundell Maple MP.
By the 1930's times had changed and the 4th Earl of Verulam was forced to sell The Pre. It was brought by Montague George Dashwood, a locally respected gentleman, who lived there until the early 1950' s. For a time the peace of The Pre was threatened, when the Herts County Council laid plans for a relief road which would have joined the main road just east of the entrance to the hotel, but the plan was interupted by the war. On the death of Mr Dashwood in 1951, the Pre returned to the Grimston family, was let as a hotel and has remained so for over forty years.

FRANCIS JOSEPH KIFF ( PAGE 42 of KIFF TREE JUNE 1998 )
by Alan Jepps, Dec 1998
Information gleaned from Payment of Pensions Records held at Kew Record Office (29/9/1998 ) for years 1916 to 1923 (PIN 26/8376 )
We first meet Francis Joseph Kiff at his medical on 26th September 1916 . We do not know the reason for his enlistment (e.g. volunteer, conscript ?) but after two years of war Britain was in need of more cannon fodder willing or not. The medical records provide some personal as well as medical information.
Francis was married at Tring, Hertfordshire on 15th August 1900 to Alma Hinton and they had two children Dorothy ? born 20th December 1903 and Frank born 4th December 1905.
Before the war Francis worked for 12 years as a caretaker or steward at the Hemel Hempstead Institute but before that nothing is known. He and his wife lived at 8 ? (probably 48 where he lived after the war ) High Street, Hemel Hempstead, Hertfordshire.
Francis was born in 1876 at Tring and was therefore 40 years old in 1916 . His height is given as 5 feet 4 6/ 10 inches, weight 117 lbs ( 8 stone 5 lbs ) with right middle finger bent, eczema, hammertoes and vision graded 6/6 . Also Francis said he had had a haemorrhage from the lungs eight years previously, a statement that does not suggest a keen volunteer! Not surprisingly his medical category is registered as Bii . Not the most promising of material!
The records state variously that Francis enlisted at Watford on 20th November 1916 (almost two months after the medical) and at Bedford on 24th February 1917. There seems to have been some delay in accepting Francis into the army, perhaps due to his medical category ?
On enlistment Francis joined " 16th Royal West Surreys " (his description ) or as the records show " R.W Surrey Regiment 16th Labour Company ( Regimental no. 47346 ) and then transferred to " 124th Labour Company " ( Regimental no. 73841 ) . At this time men considered medically unfit were often posted to the Labour Battalions , presumably to enable release of a fully fit soldier to the front line . He subsequently transferred to the Royal Flying Corps , later RAF ( Regimental no. 135272 ) . There is no information as to the dates of each transfer but it is almost certain that he was a private in the army until 26th January or 23rd
February 1919 and transferred to Class G of the Air Force Reserve as an AC2 ( Aircraftsman second class ) on 23rd February 1919 - trade Batman . The conflicting enlisting venues could indicate when he transferred from one Labour Company to another ?
Francis served at home from 24th February 1917 to 10th March 1917 , in France and Belgium 24th February 1917 to 2nd October 1917 and at home from 3rd October 1917 to 23rd February 1919 . However he is also recorded as being demobilised on 26th January 1919 " due to age limit " and " deemed to have been discharged as from 30th April 1920 ". This latter "deemed to ...." date is probably from the Air Force Reserve . The period between 26th January and 23rd February could be due to leave in lieu or it could be the period he served in the RAF before transferring to the Air Force Reserve ? The War ended on 11th November 1918 . Why was Francis not demobbed until early 1919?
Although the official records say Francis was mustard gas poisoned on 2nd October 1917 at Ypres, Francis' later recollections state he was gassed by gas bombs on 7th September 1917.
In the two years since being demobbed Francis was unable to obtain regular work, only casual work the Institute apparently having closed down . He therefore made a written application for a disability pension , in a quite good and legible hand , on 29th January 1921 . He gave his reason for not applying earlier as the expectation that he would recover his health after the war. He must have been in desperate financial circumstances with a wife and family to support . Perhaps his wife and one or two children had to go out to work. Other members of the Kiff family lived in the area and perhaps they also were able to help.
Francis' description of his illness was that "I am suffering from gas poisoning which affects the kidneys and chest". The official medical reports are less circumspect ! Such as swelling of stomach , shortness of breath , cough , vomit in morning , gastritis , emaciated , rough breath sounds both sides of chest , wind , wears abdominal belt which controls 'pot belly', weight in clothes 8st 10lbs ( last year 8st 7lbs ). Originally the assessment of degree of disablement of whole condition was 20% but this was subsequently reduced to 15-19% , probably because "under 20%" qualified for lowest payment only .
A pension was granted from 26th January 1921 of 8/- per week plus 3/6 per week for wife and one child , the latter reduced to 2/- per week from 4th December 1921 for wife only. It would appear that children did not quality for pension when they reached the age of 16. Without explanation the total allowance was reduced to 8/6 per week ( including wife ) from 11th April 1923 for 104 weeks. Did the pension stop in 1925 or are the continuation papers held elsewhere? If it stopped in 1925 when Francis was 49 how did he manage?
More research would probably answer the questions but the above brief biography compiled from one set of contemporary records would be similar to that of many thousands of other men who returned to a land fit for heroes after the Great War. What a waste!
Other information found subsequent to above :
General Register Office London Indexes:-
Kiff Births 1837-1920 (location) (area) (page) (year) (qtr) (sex) (rec)
Francis Joseph Berkhamstead 3A 453 1876 4 M 390
Dorothy May Hemel Hempstead 3A 857 1904 1 F 698
Ivy Enid " " 3A 861 1904 1 F 700
Frank " " 3A 832 1905 4 M 724
Kiff Marriages 1837-1950
Francis Joseph Berkhamstead 3A 1301 1900 3 M 384
Dorothy M ( Spouse
Bridges ) Hemel Hempstead 3a 2043 1929 2 (daughter?)
Frank ( Spouse Croft) " " 3a 3141 1931 3 (son?)
Kiff tree page 42 :-
Father-William Henry Kiff
Mother- Ellen Saunders
Brief Tree .-
William Henry Kiff
m. Ellen Saunders
Francis Joseph b.4Qtr.1876 Berkhamstead ??
d. ??
m. 15/8/1900 Tring
Alma Hinton b.? .? .
d. ??
Dorothy May b. 20/12/1903 H H Ivy Enid b. 1Qtr.1903 Frank b.4/12/1905 H.H
d.?? d. ?? d. ??
m.3Qtr.1929 " " (deceased twin or no m.3Qtr1931 H.H
?? Bridges b. ?? connection?) ?? Croft b.??
d. ?? d.??


Research Undertaken
Sandra Thomas has found the following baptisms in St Peter's Church, Newton, Oystermouth.
Philip Llewelyn Kift, born 20 Sep 1897, married Freda Olive Brace and had the following children:
Philip Bernard b 21 Feb 1922
Terence Llewelyn b 13 Oct 1926
Sheila Margaret b 28 Oct 1928
Freda Beryl b 26 May 1930
Helen Jillian b 28 Oct 1933
Hilary Jenny b 4 ? 1935
Margaret Diane b 17 Jan 1940
Isabel Daisy b 11 Jul 1943
Lori-Ann Foley has received the following information from the Bucks Family History Society Marriage Database.
Marriages in Chesham:
12 Jul 1752

Banns

KIFF John

BUNKER Mary OTP

10 May 1779

Banns

KIFF Benjamin X OTP

SILLS Ann X OTP

Wit. William Dwight, Elizabeth Kiff

22 Oct 1788

Banns

LOVEGROVE Joseph X Bach OTP

KIFF Ann X Wid OTP

Wit. Nichl Skottowe, Matthew Archer
Marriages in Great Missenden
7 Jun 1779

Banns

DENNETT John Bach OTP

KIFF Elizabeth Spin OTP

Wit. William Dwight, Hannah Dwight

Kew Record Office Army Records
PIN 26/8377 Accelerated Opening 1999
William Charles Kiff (1892- 1961)
William Charles Kiff 11M 251127
Regiment Rifle Brigade Reg. No. S/15409
(1) 32 Queens Crescent, Kentish Town NW5
(2) 114 Belmont Street, Kentish Town NW5
G.S.W. Lt. Arm (8) due to 20%
Final Award 20% for life
from 27 June 1923 (8/- per week)
to 113 Weedington Road, Kentish Town.
Pension Expires 28-6-21 (?)
Rank L/Cpl Rifle Brigade 5th
m. 11.12.15
born 11 December 1892
Date of death 25.12.61 aged 70 years
Place of death 67 Preston Hill, Wembley.
wife A.E.Kiff of 41 Weedington Road, NW5
No Award for Wife
Occupation Milk Salesman
Died from Acute and chronic bronchitis and emphysema.
(3) William Charles Kiff Milkman
Date of disability 20 Sept. 1917
Flanders near Ypres.
He was advancing with his battalion to attack the enemy when he was hit in the L. forearm with a machine gun bullet.
A.F B. 103 21.9.17 62nd F.A
24.9.17 - 17.12.17 Graylingwell War Hospital, Chicester.
Next of kin Frederick George Kiff of 32 Queens Cresent N.W.
Relationship - father
Campaigns B.E.F France 1916
5'3" 108 lbs 33' inches (chest ?)
Birthplace St. Pancras
Trench Fever 47 days
Brown Eyes
Brown Hair
Milk Roundsman
Sober, Honest and ?
Information from Celia Jepps

Help Wanted
This is a request from Mrs Marion Tanner nee Dawson, Basildon, Essex
Marion is trying to trace an old school friend of hers who she knew back in 1961 . Her name was then Jean Kiff and she was born on 1st of June, 1950. Jean was the 2nd youngest of 8 children and the family lived in Thames View Estate, Barking, Essex. The family was as follows:-
Mother - Mrs Nell Kiff
?
?
Barbara
Margaret
David
Allan
Raymond
Jean
Ann
Marion can't remember the father' s name or the eldest brothers name.
Marion goes on to say she lost touch with Jean Kiff in about 1968 and she believes Jean subsequently married at about this time.

New member Sally Schaeffer is trying to trace her Kift family which lived in Wales, but came originally from Devon.
James Kift was b ~ 1823 in Devon and married Sarah Rees, b ~ 1824 in Swansea, around 1844. They had three sons - Samuel, b 1850 in Pwll St Llandore, Llangyfelach, Jack/John b 1848/9 in Pyle, and James b ~ 1854.
Samuel and John emigrated to America, while James stayed in Wales, where he died in 1894 on a fishing boat off Plymouth.
In 1881 James and Sarah lived in Roath, Cardiff. Their son James married Mary in 1881, with children James J b 1876, Elizabeth b 1878 and two stepchildren, Benjamin Roberts b 1865 and Clara Roberts b 1867.

Our other new member, Mark Kieft, is also looking for further information on his Kieft ancestors. Details of his family tree follow.
Descendants of William Kieft, Devon
1. William Kieft
Occupation General Labourer, d. by 1896, Devon. Dead by son William's wedding
Children:
+2. i William Kieft b. 1868.
Second Generation
2. William Kieft (l.William) b. 1868, Barnstaple, occupation Potato Carman / Docker, m. 16 Aug 1896, in The Methodist Chapel, Barnstaple, Rosina Heddon, b. c 1878, Barnstaple, (daughter of William Henry Heddon) d. c 1959, Barnstaple. William died c 1910, Swansea? Lived in Pilton East at time ofwedding. Moved to Wales by 1905, lived at 151 Kilvey Road, Llansamlet in 1905. Died by 1929, as shown on Thomas John's wedding cert Rosina: Lived in Pilton East at time of wedding. Lived her final years in Devon, supposedly in the Alms Houses in Barnstaple.
Children:
+ 3. i Thomas John Kieft b. 19 Aug 1905.
4. ii William Kieft.
5. iii Rosina Kieft. Married a railway signal-man, and moved to Mid Wales
+6. iv George Kieft b. 1909.
Third Generation
3. Thomas John Kieft also known as: Jack (2.William, 1.William) b. 19 Aug 1905, Swansea, occupation Water Inspector, m. 12 Sept 1929, in Swansea Register Office, Catherine Venn, also known as: Peggy b. 7 Dec 1905, Upper Merthyr Tydfil, (daughter of Edward Venn and Elizabeth Thomas) occupation Chambermaid/Housewife, d. 30 Oct 1996, Morriston Hospital, Swansea, buried: Cremated. Thomas died 26 Nov 1993, Swansea, buried: Cremated. Born 1 Llewe1lyn Road, Llansamlet. Mother lived at 151 Kilvey Road Swansea. Lived at 13 Cambrian Place at time of wedding, probably with mother. Lived in Somerset Place, Swansea Docks before Second World War. Lived at 12 Cambrian Place from 1946 to late 70's Catherine: Lived and worked as a chambermaid in the Royal Hotel, High St, Swansea at time of wedding.
Children:
+ 7. i William John Henry Kieft b. Aug 1930.
+8. ii Elizabeth Jean Kieft b. 13 Mar 1932.
+ 9. iii Kenneth Kieft b. 15 June 1935.
6. George Kieft (2.William, 1.William) b. 1909, Swansea, occupation Salvation Army
Brigadier, d. 30 Mar 1998, Marlow, Bucks. Whole life was dedicated to the Salvation Army.
Children:
+ 10. i Barbara Kieft b. c 1935.
Fourth Generation
7. William John Henry Kieft also known as: Jack (3.Thomas, 2.William, 1.William) b.
Aug 1930, Swansea, occupation Publican, m. Barbara ?. W illiam died 16 Jul 1997, Swansea,
buried: Cremated, Swansea.
Children:
11. i Samantha Kieft.
12. ii Karl Kieft.
8. Elizabeth Jean Kieft also known as: Jean (3.Thomas, 2.William, 1.William) b. 13 Mar
1932, Swansea, m. ( 1) ? Scott, m. (2) Mel Matthews, d. yes.
Children by ? Scott :
13. i Deborah Scott.
Children by Mel Matthews :
+ 14. ii Christopher Matthews.
9. Kenneth Kieft also known as~ Ken (3.Thomas, 2.William, 1.William) b. 15 June 1935,
Somerset Place, Swansea, occupation Chef/ Postman, m. 1 Mar 1958, in St Nicholas, Townhill, Swansea, Phyllis Mary Estcourt, also known as: Phyl b. 16 Mar 1934, Swansea, (daughter of Albert William Estcourt and Bronwen Warren) occupation Housewife. Joined the RAF, travelled the world with family. Settled in West Cross Swansea in 1976. Phyllis: Twin with Dor
Children:
+ 15. i Robert Paul Kieft b. 5 Jul 1961.
+ 16. ii Phillip Mark Kieft b. 29 Jan 1963.
+ 17. iii Bronwen Lyn Kieft b. 23 Mar 1 967.
10. Barbara Kieft (6.George, 2.William, 1.Wi11iam) b. c 1935, m. Mr Brown.
Children:
18. i one.
19. ii two.
20. iii three.
Fifth Generation
14. Christopher Matthews (8.Elizabeth, 3.Thomas, 2.William, l.William).
Children:
21. i Joseph Matthews b. c 1997.
15. Robert Paul Kieft also known as: Paul (9.Kenneth, 3.Thomas, 2.William, 1.William) b. 5 Jul 1961, Fairwood Hospital, Swansea, Glam, occupation Salesman, m. 8 Aug 1987, in Our Lady Star of the Sea, Swansea, Penelope Jane McNeff, b. 3 Oct 1964, Swansea, Glam, (daughter of Christopher Leonard McNeff and Geradine Mary McCoy) occupation Nurse.
Children:
22. i Hannah Maria Kieft b. 17 May 1988, Swansea, Glamorgan.
23. ii Kirsten Elinor Kieft b. 1 Apr 1992, Swansea, Glamorgan.
24. iii Matthew John Kieft b. 31 Jan 1994, Swansea, Glamorgan.
16. Phillip Mark Kieft also known as: Mark (9.Kenneth4, 3.Thomas3, 2.William2, l.Williaml) b. 29 Jan 1963, Fairwood Hospital Swansea, occupation Aircraft Engineer, m. 15 Sept1990, in St Peters + St Pauls, Swaffham, Norfolk, Cheryll Linn Hicks, b. 19 Dec 1968, Westhill Hospital, Dartford, Kent, (daughter ofJohn Authur Hicks and Jennifer Monica Hannant) occupation Housewife.
Children:
25. i James Owen Kieft b. 17 Oct 1992, Queen Elizabeth II Hospital, Kings Lynn,.
26. ii Clare Louise Kieft b. 9 Oct 1994, Singleton Hospital, Swansea, Glamorgan.
27. iii Rebecca Catherine Kieft b. 17Nov 1997, Llandough Hospital, Penarth, Glamorgan.
17. Bronwen Lyn Kieft also known as: Lyn (9.Kenneth4, 3.Thomas3, 2.William2,
l.Williaml) b. 23 Mar 1967, Colne, Wiltshire, occupation Housewife, and 19 Mar 1988, in
Swansea Register Office, Glamorgan, Robert Andrew Phillips, and25 Nov 1989, in Swansea
Register Office, Glamorgan, Peter Charles Sullivan, b. 3 Mar 1960, Swansea, Glamorgan,
occupation Manager.
Children by Peter Charles Sullivan:
28. i Daniel Peter Sullivan b. 27 Mar 1990, Swansea, Glamorgan.
29. ii Zoe Catherine Sullivan b. 16 January 1992, Swansea.
30. iii Katie Ellen Sullivan b. 7 March 1993, Swansea, Glamorgan.

© Kiff One Name Study 1998-1999 all rights reserved